Series: Genetics, Genomics and Breeding of Crop Plants
Genetics, Genomics and Breeding of Soybean
Editors:
Kristin Bilyeu and Milind B. Ratnaparkhe:
USDA-ARS, University of Missouri, Columbia, USA
Chittaranjan Kole
: Department of Genetics and Biochemistry, Clemson University, Clemson, SC, USA
ISBN 978-1-5780-8681-8, 2010, 354 pages + 8 color plates, hc, US $ 129.95
About the Book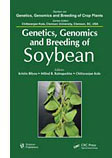 The soybean is an economically very important leguminous seed crop for feed and food products that is rich in seed protein (about 40 %) and oil (about 20%); soybean enriches the soil by fixing nitrogen in symbiosis with bacteria. Soybean was domesticated in northeastern China about 2500 BC and subsequently spread to other countries. The enormous economic value of soybean was realized in the first two decades of the 20th century. In the international world trade markets, soybean is ranked number one in the world among the major oil crops. In addition to human consumption, it is a major protein source in animal feeds and is also becoming a major crop for biodiesel production. For many decades, plant breeders have used conventional breeding techniques to improve soybeans. World production of soybean has tripled in the last 20 years. Soybean production continues to expand as demand for soybeans and soybean products increases.
This volume deals with the recent advances in soybean genome mapping, molecular breeding, genomics, sequencing and bioinformatics and is intended to bridge traditional research with modern molecular investigations on soybean. There are 15 chapters in all, each of which is relatively independent. We hope that this book is useful to soybean researchers as well as to people working with other crop species.
Contents
• Introduction:
James Orf
• Classical Breeding and Genetics of Soybean:
Andrew M. Scaboo, Pengyin Chen, David A. Sleper and Kerry M. Clark
• Identification of Genes Underlying Simple Traits in Soybean:
David Lightfoot
• Molecular Genetic Linkage Maps of Soybean:
Sachiko Isobe and Satoshi Tabata
• Molecular Mapping of Quantitative Trait Loci:
Dechun Wang and David Grant
• Molecular Breeding:
David R. Walker, Maria J. Monteros and Jennifer L. Yates
• Map-based Cloning of Genes and QTLs in Soybean:
Madan K. Bhattacharyya
• Candidate Gene Analysis of Mutant Soybean Germplasm:
R.E. Dewey and P. Zhang
• Functional Genomics—Transcriptomics in Soybean:
Sangeeta Dhaubhadel, Frédéric Marsolais, Jennifer Tedman-Jones and Mark Gijzen
• The Draft Soybean Genome Sequence:
Jeremy Schmutz, Steven B. Cannon, Therese Mitros, Will Nelson, Shengqiang Shu, David Goodstein and Dan Rokhsar
• Soybean Comparative Genomics:
Jianxin Ma, Steven Cannon, Scott A. Jackson and Randy C. Shoemaker
• Role of Bioinformatics as a Tools:
Julie M. Livingstone, Kei Chin C. Cheng and Martina V. Strömvik
• Soybean Proteomics:
Savithiry S. Natarajan, Thomas J. Caperna, Wesley M. Garrett and Devanand L. Luthria
• Metabolomics Approach in Soybean:
Takuji Nakamura, Keiki Okazaki, Noureddine Benkeblia, Jun Wasaki, Toshihiro Watanabe, Hideyuki Matsuura, Hirofumi Uchimiya, Setsuko Komatsu and Takuro Shinano
• Soybean Future Prospects:
Ed Ready

Your orders will be
redirected to CRC Press